ProfTalks President and Founder Libby Gillman spoke with journalist Kaitlyn Kochany about the exciting lectures on offer in Toronto on April 25.
---
ProfTalks aims to educate and entertain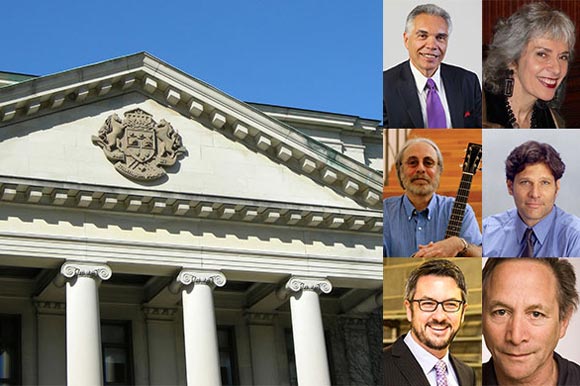 Libby Gillman wants to teach you something. She's the organizer of
ProfTalks
, happening April 25 at the Bram & Bluma Appel Salon at the Toronto Reference Library. ProfTalks, now in its second year, is a carefully curated event aimed at lifelong learners. Its goal is to join professors—people Gillman describes as "a font of knowledge"—with Baby Boomers who love culture and entertainment.
Gillman decided to import the idea to Toronto after attending a similar event in New York. "It was a very robust and entertaining group of courses, aimed primarily at boomers," she explains. "Classes aren't available to the general public, and we don't always have the time or opportunity to make a commitment to taking a university course." Instead, ProfTalks offers a day-long event, featuring six one-hour seminars on topics as diverse as Alfred Hitchcock, political sex scandals, and debunking celebrity-driven health fads. Lloyd Alter, who teaches design at Ryerson University, will be speaking about the importance of going small when designing cities and homes.
Professors who are both experts in their fields and renowned public speakers lead each course. As an example, she offers Bruce Conforth. "He's the highest rated professor at the University of Michigan and the original curator of the Rock and Roll Hall of Fame in Cleveland," Gillman says. He'll be teaching a course for ProfTalks called The Bluesy Roots of American Popular Music, where he shares deep knowledge of the American blues music scene, and rounds out the educational portion with live musical performances.
She's equally excited about the entire roster. "Each one is a gem. These are people who speak at major institutions throughout North America," she says. "I'm excited to see how Toronto will react."
Gillman, who is a lawyer by day, also sees this event as an opportunity for boomers to connect with each other, and with big ideas. "ProfTalks's competition are things like the opera and the ballet," she says. She cites both entertainment and the chance to "learn interesting things in the company of likeminded people" as the reasons people would attend. "Boomers are looking for things to do that are healthy, mindful, active, and not related to work." ProfTalks allows them to revisit the university classrooms of their youth and learn in a very 21st century way.
---
Social Share